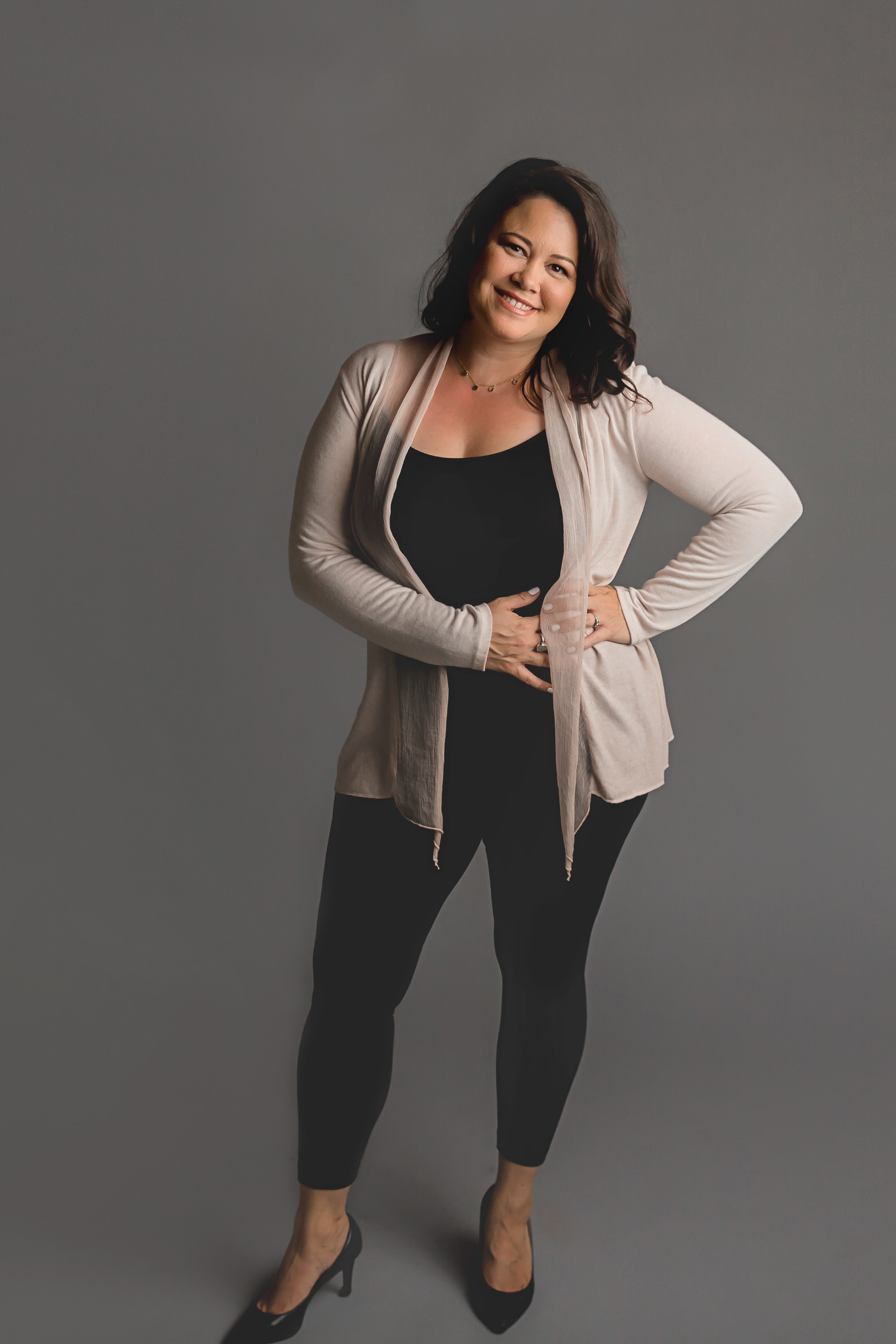 Hi! I'm Danielle Searancke
Also known as The Squamish Medium. I'm a full-time professional psychic medium, mentor and podcast host of the Spirit School podcast.Through Spirit School the podcast I was able to organically grow an engaged and loyal audience.
I built trust with my listeners through sharing stories and teachings on my podcast. Within 1 year I was able to leave my 9-5 corporate career due to the high demand of International listeners wanting to work with me through my services, courses and programs.
The Spirit School podcast has been a vessel to get my messages out in the world, heal my stage-fright, attract aligned clients, and eventually launched Spirit School – an online school for metaphysical studies in Spring 2020 which has over 500 students!
Spirit School Stats:
Over 150,000 downloads
Averaging over 30,000 plays a month
Downloads from 74 countries around the world
4.9/5 star rating on iTunes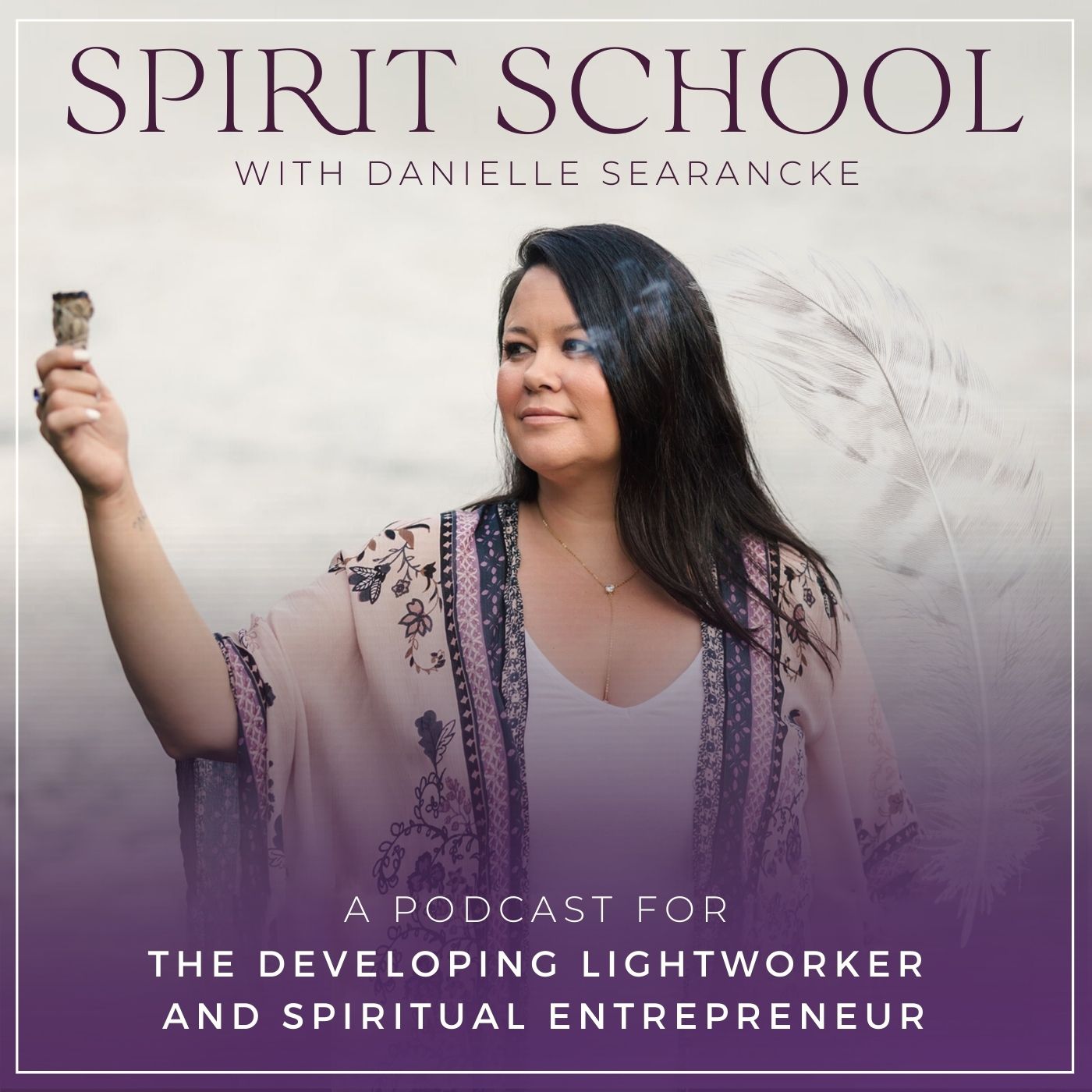 What is The Empowered Podcaster class about?
A class for the woman ready to heal her inner critic and share her powerful message with the world through podcasting.
Have you thought about starting a podcast? The Empowered Podcaster Masterclass is here!
This is for those who are feeling called to launch a podcast and overcome the fear of sharing their voice.
We transform old stories, strategize the framework of your podcast, co-create a launch plan and go through the technical side of recording, posting, and promoting your pod!
This is a 3-hour class that includes a workbook to get you clear on your message, connected to your vision, and confident in your delivery!
Everything you need to get started!
The Empowered Podcaster Includes:
3-hour of class videos
Fillable PDF workbook to create the framework of your podcast
Technical resource guide with videos and links to more resources
Facebook community for podcast creators with access to me ongoing
What We Cover:
Overcome the fear of sharing your voice
Get clear on your message and your Why
Transform old stories and resistances
Get clear on your audience
Podcast titles and descriptions
The power of show-notes
Podcast planning
Strategize the framework of your podcast – first 8 episodes
Create a launch plan
Recording your podcast intro DIY!
Podcasting platforms
Learn about the best software to use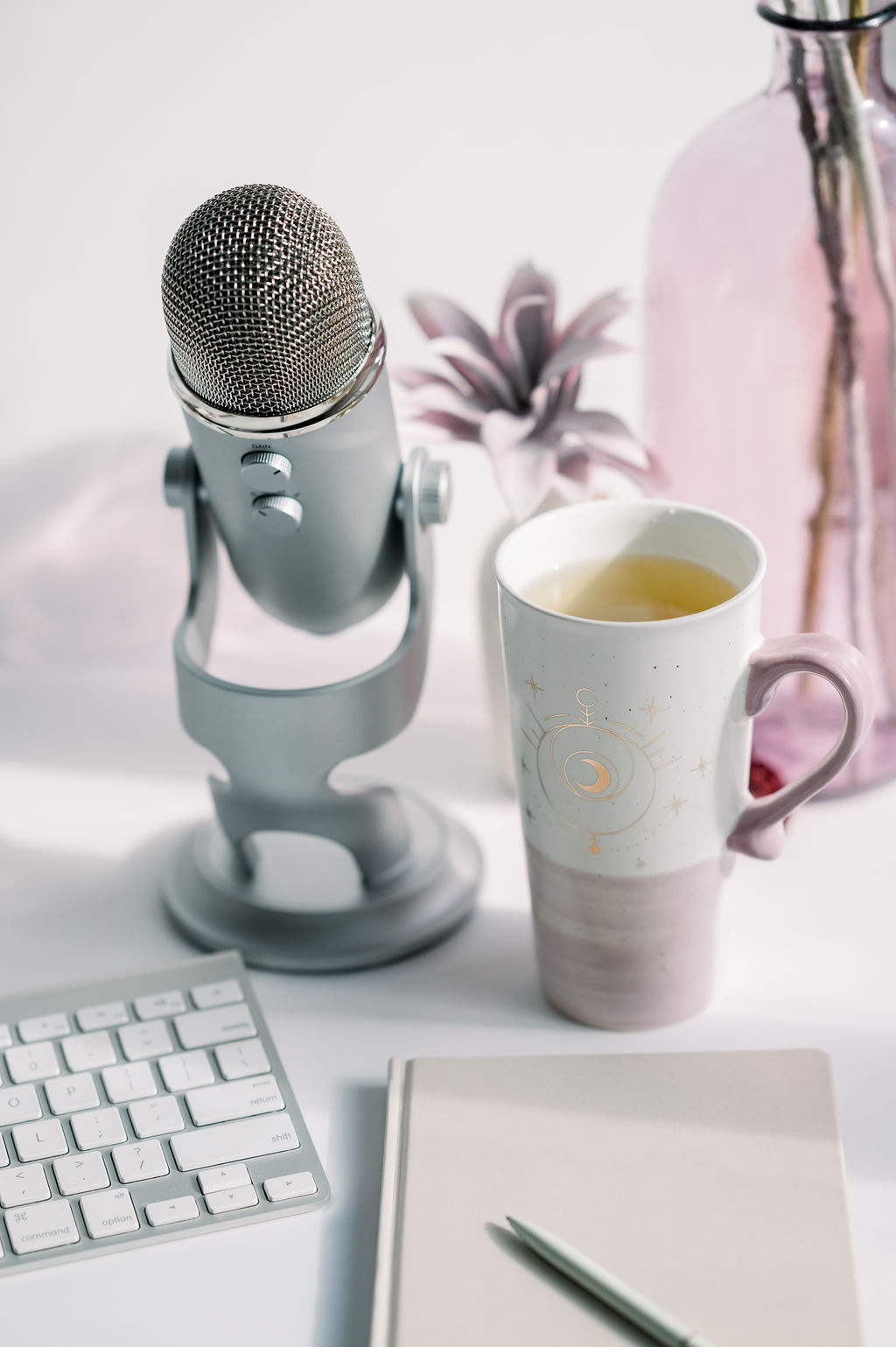 The Empowered Podcaster Client Testimonials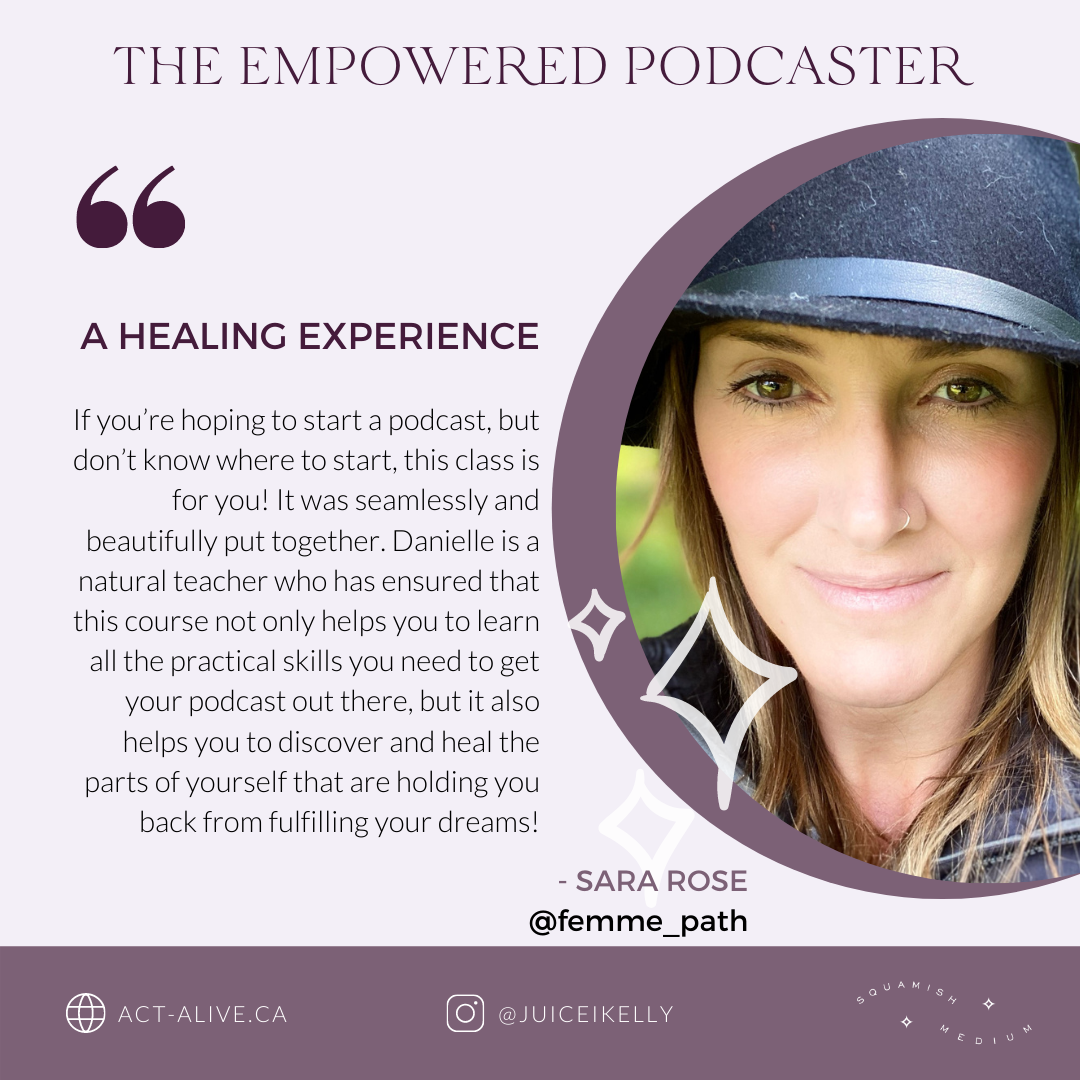 @femme_path
"If you're hoping to start a podcast, but don't know where to start, this class is for you! It was seamlessly and beautifully put together. Danielle is a natural teacher who has ensured that this course not only helps you to learn all the practical skills you need to get your podcast out there, but it also helps you to discover and heal the parts of yourself that are holding you back from fulfilling your dreams!"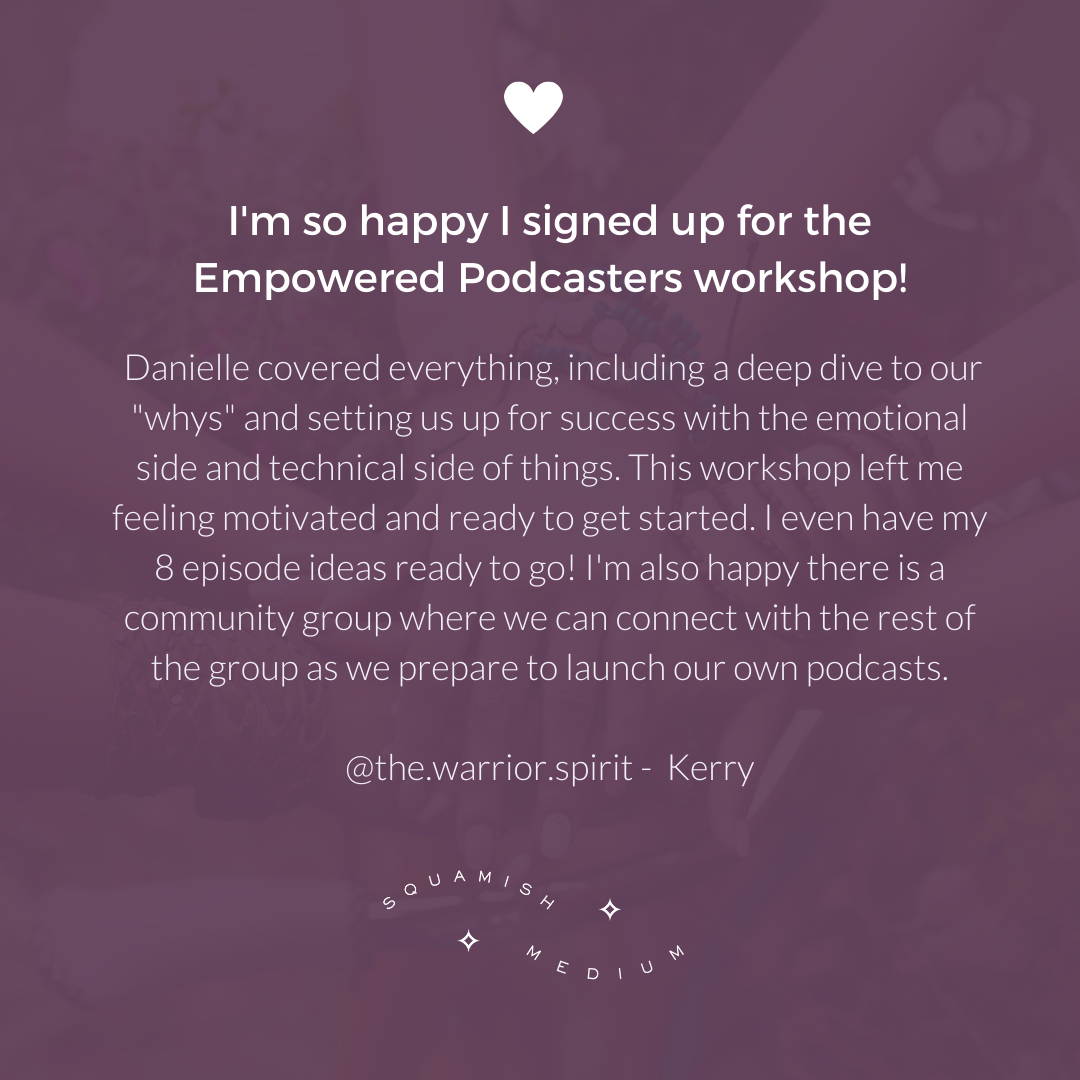 @the.warrior.spirit
"Danielle covered everything, including a deep dive to our "whys" and setting us up for success with the emotional side and technical side of things. This workshop left me feeling motivated and ready to get started. I even have my 8 episode ideas ready to go! I'm also happy there is a community group where we can connect with the rest of the group as we prepare to launch our own podcasts."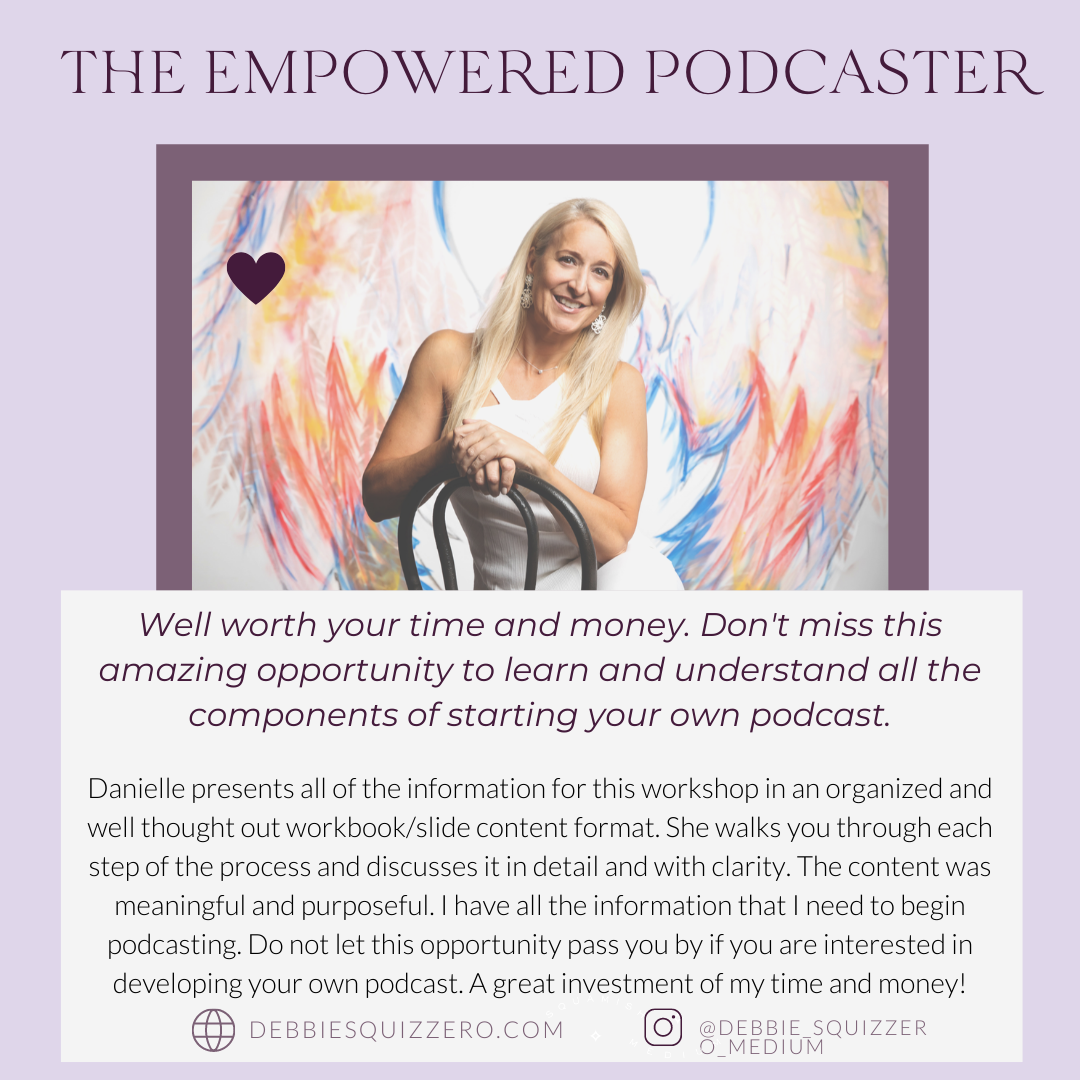 @debbie_squizzero_medium
"Danielle presents all of the information for this workshop in an organized and well thought out workbook/slide content format. She walks you through each step of the process and discusses it in detail and with clarity. the content was meaningful and purposeful. I have all the information that I need to begin podcasting. Do not let this opportunity pass you by if you are interested in developing your own podcast. A great investment of my time and money!"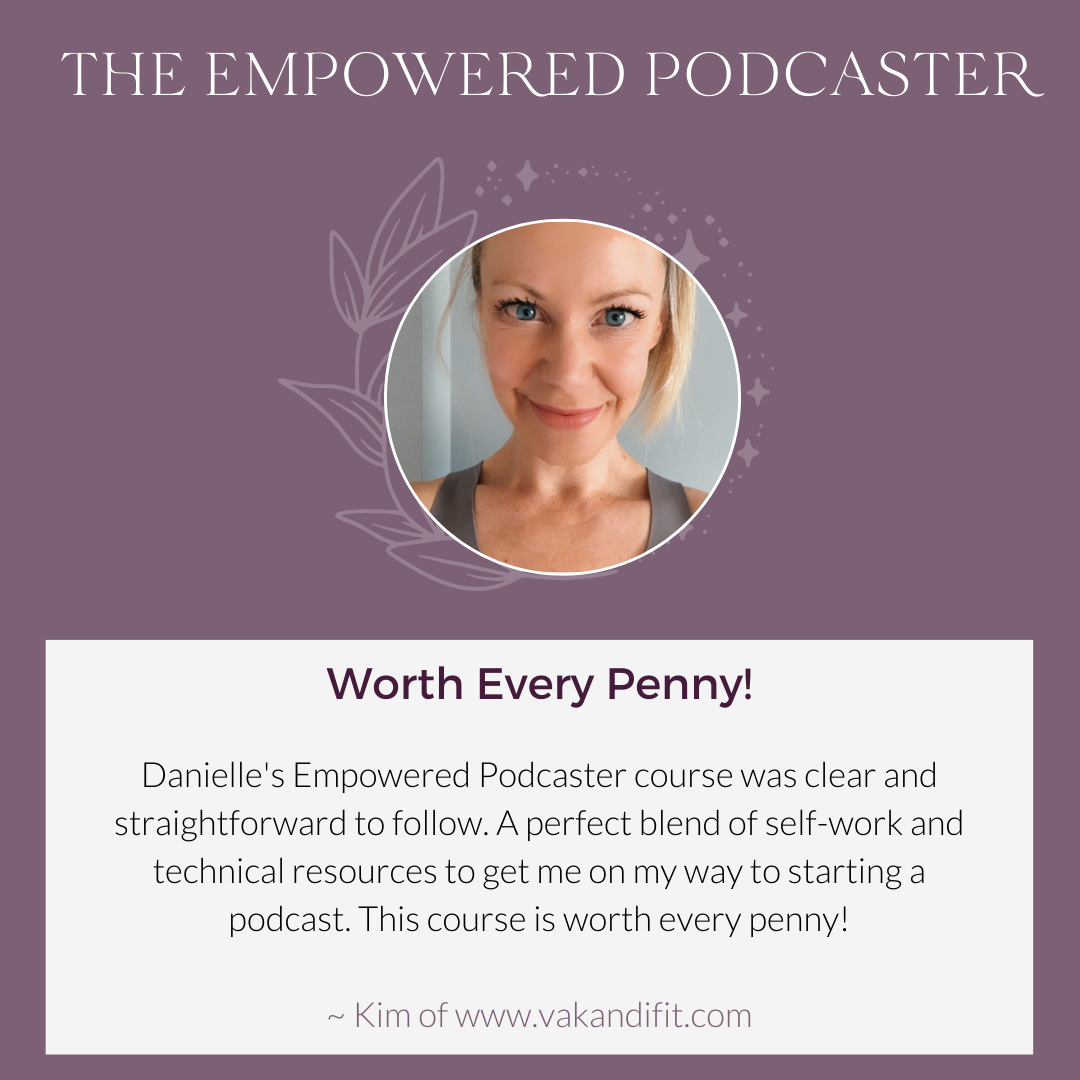 @vakandi_fit
"Danielle's Empowered Podcaster course was clear and straightforward to follow. A perfect blend of self-work and technical resources to get me on my way to starting a podcast. This course is worth every penny!"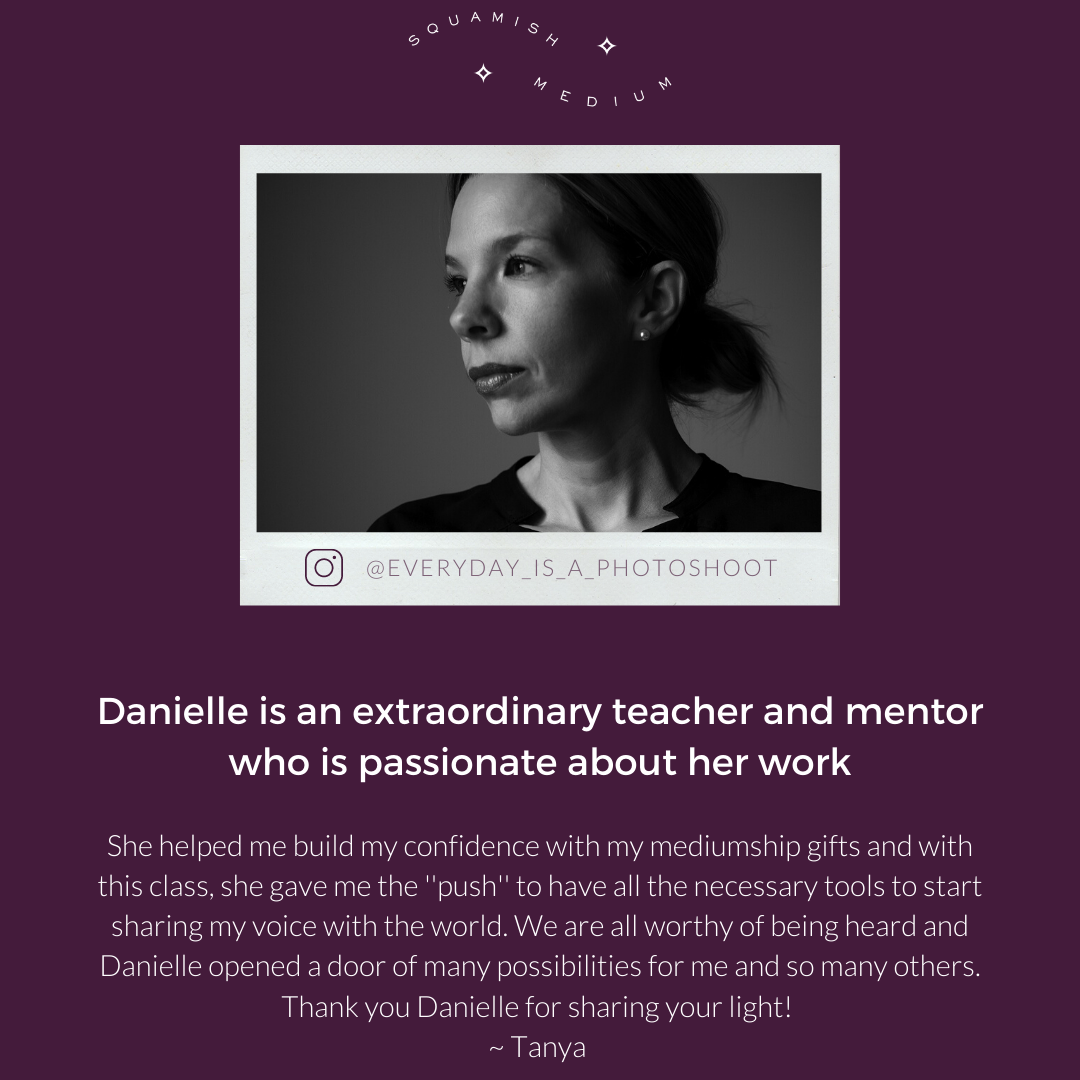 @everyday_is_a_photoshoot
"Danielle is an extraordinary teacher and mentor who is passionate about her work. She helped me build my confidence with my mediumship gifts and with this class. She gave me the "push" to have all the necessary tools to start sharing my voice with the world. We are all worthy of being heard and Danielle opened a door of many possibilities for me and so many others. Thank you Danielle for sharing your light!"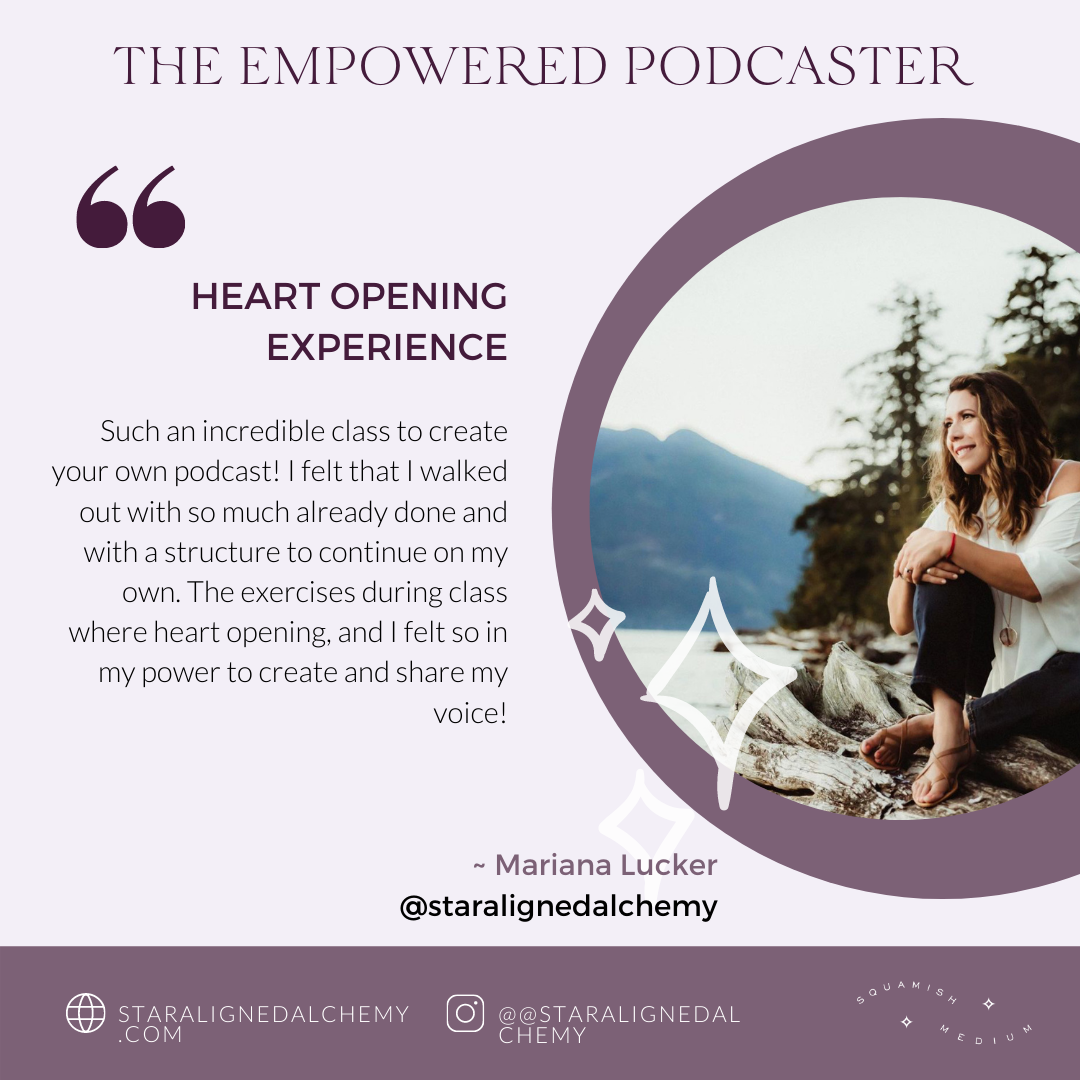 @staralignedalchemy
"Such an incredible class to create your own podcast! I felt that I walked out with so much already done and with a structure to continue on my own. The exercises during class were heart opening, and I felt so in my power to create and share my voice!"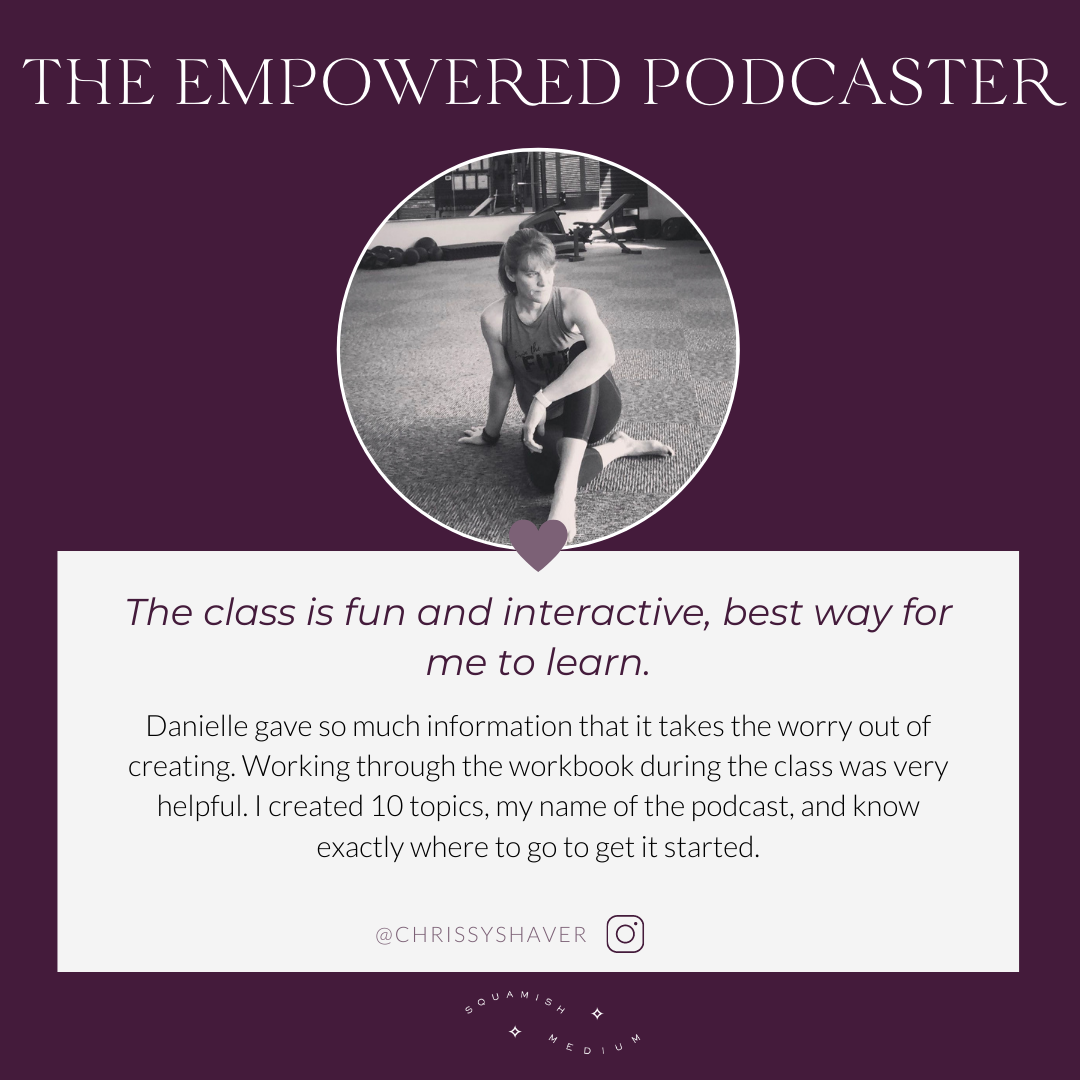 @chrissyshaver
"The class is fun and interactive, best way for me to learn. Danielle gave so much information that it takes the worry out of creating. Working through the workbook during the class was very helpful. I created 10 topics, my name of the podcast, and know exactly where to go to get started."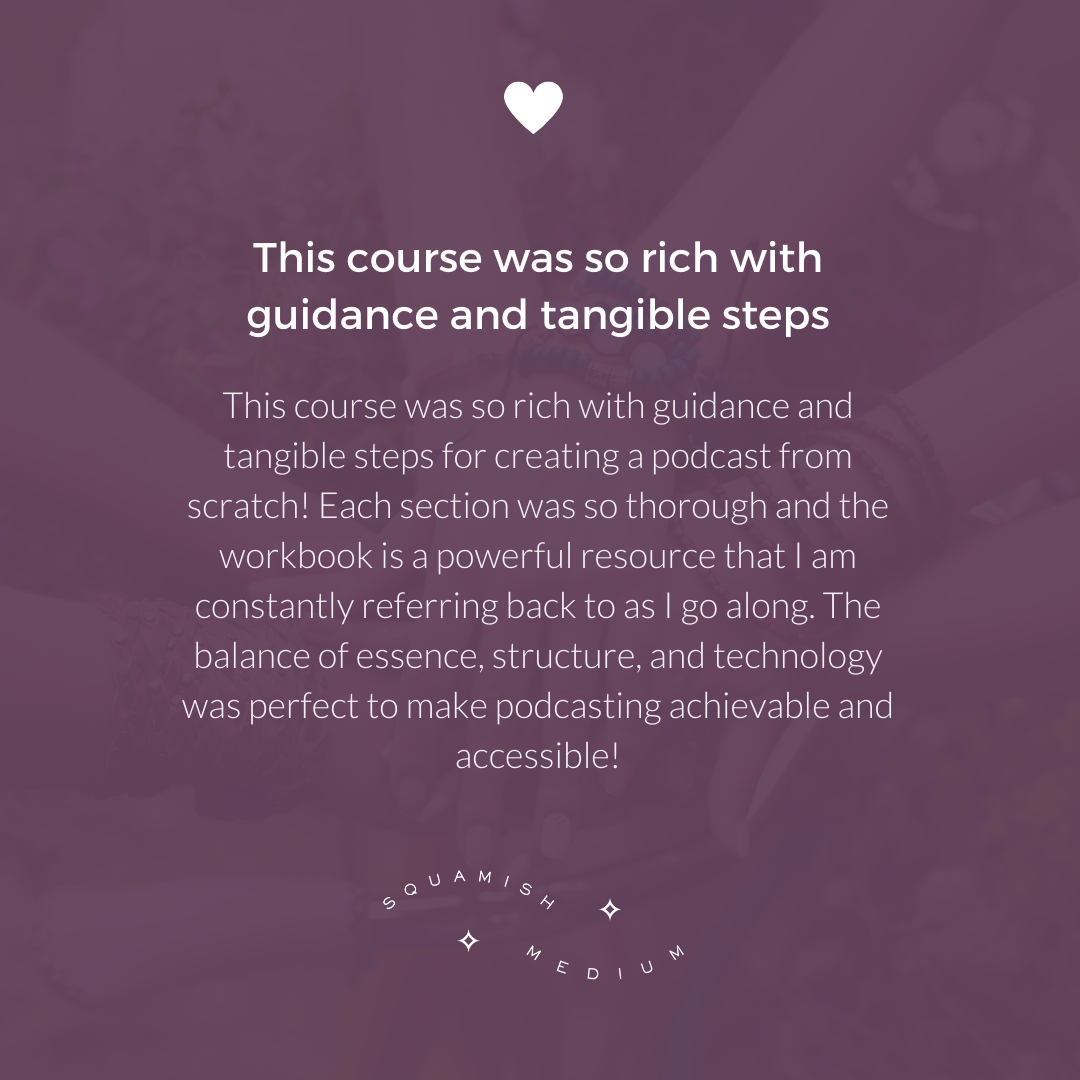 @anonymous
"This course was so rich with guidance and tangible steps for creating a podcast from scratch! Each section was so thorough and the workbook is a powerful resource that I am constantly referring back to as I go along. The balance of essence, structure, and technology was perfect to make podcasting achievable and accessible!"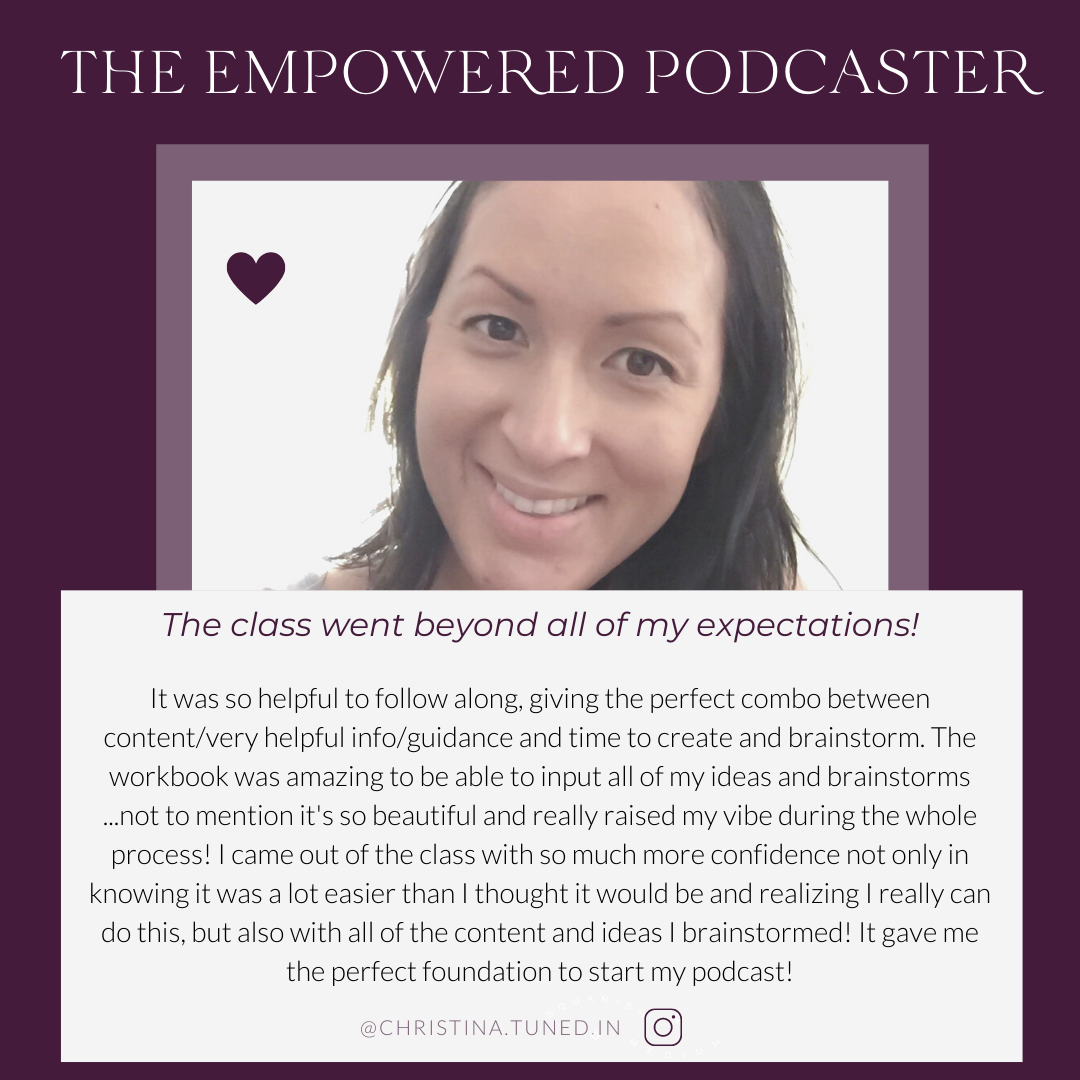 @christina.tuned.in
"The class went beyond all of my expectations! It was so helpful to follow along, giving the perfect combo between content/very helpful info/guidance and time to create and brainstorm. The workbook was amazing to be able to input all of my ideas and brainstorms. . . not to mention it's so beautiful and really raised my vibe during the whole process! I came out of the class with so much more confidence not only in knowing it was a lot easier than I thought it would be and realizing I really can do this but also with all the content and ideas I brainstormed! It gave me the perfect foundation to start my podcast."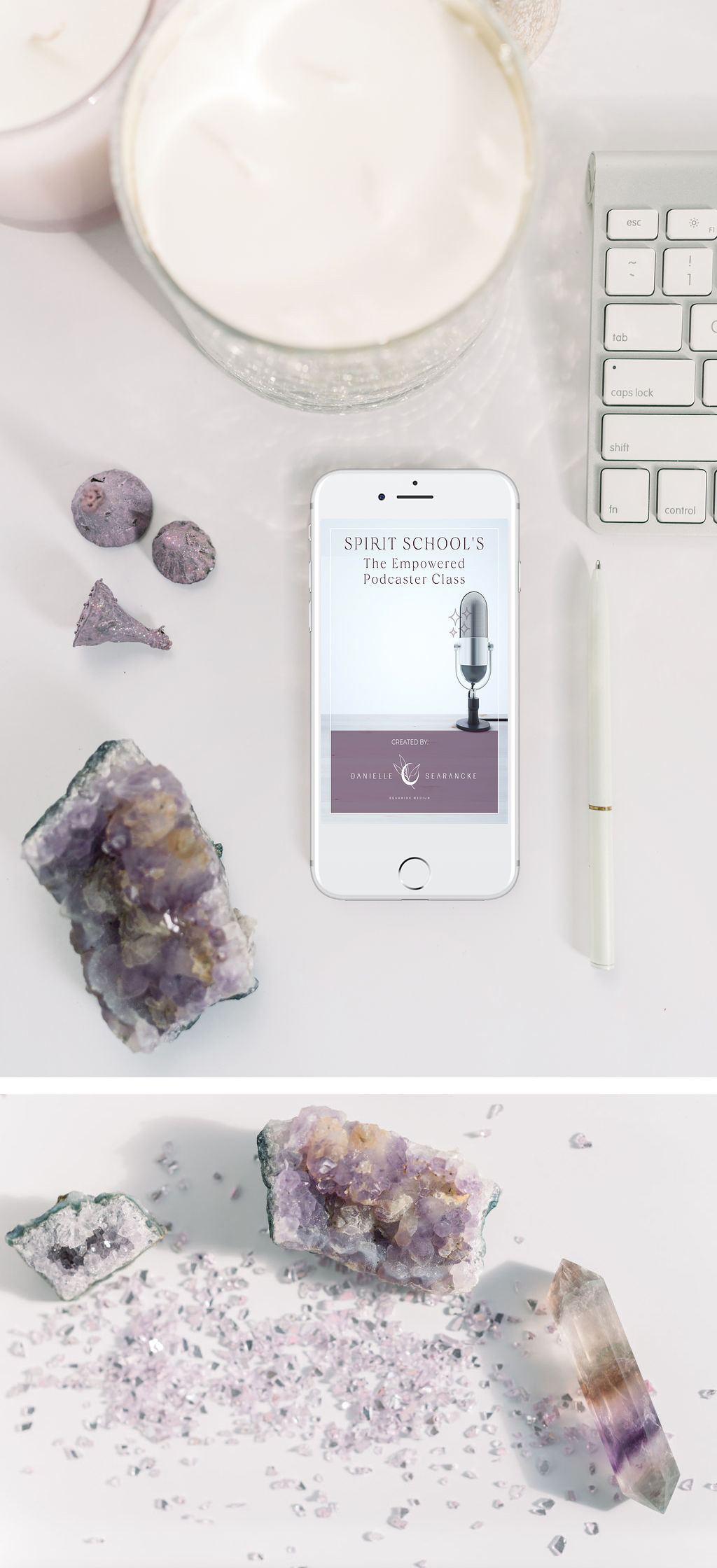 I know your fears well!
I recorded podcast episodes for over a year, deleting them as I wrapped up the recording, terrified that what I had to say had already been said before – and by people with larger audiences and more popularity in my field.
Then one day I heard a quote "done is better than perfect".
At that moment, I took the 8 episodes I hadn't deleted and launched my podcast Spirit School in 2018.
I launched, yet was too scared to share that I had a podcast for over 6 months!
Still I managed over 1000 downloads in those first 6 months, with no promoting, I slowly started getting over my fear of sharing my voice and eventually found the courage to share my podcast with the world.
Since I walked through that fear and showed up consistently and authentically for my Spirit School listeners, I have not only created a popular podcast in my industry with over 70,000 downloads – averaging over 10,000 a month – I have been able to leave my 9-5 corporate career to focus on my successful and international online business. All thanks to my podcast!
I am hired frequently by clients to help them launch their podcasts, so I decided to put together this class to help many more heal their fears, strategize their framework, and launch their own podcast.
I can't wait to see you in class!
A Few of The Empowered Podcaster Client Launches!!!